*This is the final of our four-part series highlighting the various features of Syn-Apps' patented Paging Relay. Last week showcased the Paging Relay's musical capabilities.
For organizations with remote locations, reliable connectivity between sites is often a critical requirement. It's important for these organizations to have contingency communication plans in the event of network disruptions. With the Remote Site Failover functionality, Syn-Apps' Paging Relay provides true fault-tolerance protection in the event of a WAN outage.
How Fault-Tolerance Works with Paging Relay: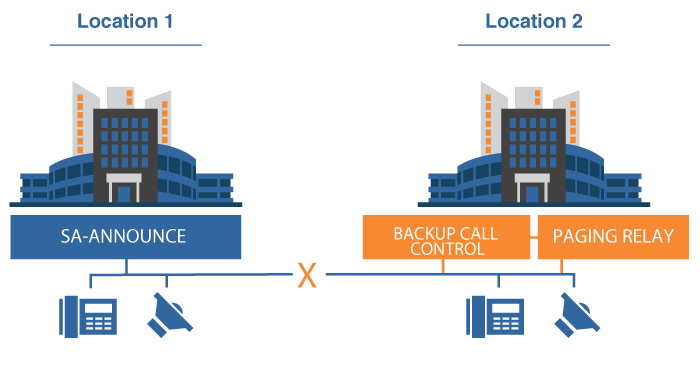 During normal operations, all notifications are answered by SA-Announce at the primary location (Location 1). If a remote site experiences a wide area network outage and the SA-Announce server is not accessible, notifications are automatically routed to the Paging Relay locally via a backup call control (Location 2).
In active failover mode, users at the remote site can pick up a phone, dial the same pre-configured extension to reach the Paging Relay, and broadcast a live page to supported IP phones, analog and IP speakers.
Let's recap!
The Paging Relay is an innovative, all-in-one device that is easy to install, provides enhanced services at a fraction of the cost, and requires virtually no configuration. Key features include:
Unicast to multicast conversion

- C

onverting a single unicast stream into multicast decreases network bandwidth and provides clear, intelligible audio - which is important for communicating to personnel.

Two type of contact closure connections

- Smart d

etection and automated alerts can help improve situational awareness and keep personnel safe.

Various musical capabilities

- Streaming live background music or playing music on hold c

reates an ambient environment for customers waiting for assistance.

True fault-tolerance protection

- The Remote Site Failover functionality keeps remote locations connected and provides live communication, during

a network disruption across the WAN.